I wanted to make something from cheap items, but not for the end result to look cheap. I have never used Gorilla Glue before- so this was my maiden project!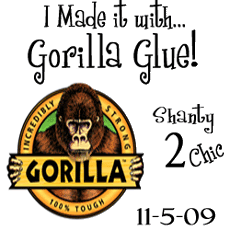 My inspiration was this month's
Country Living
Passion=Profit
...Hillary, who makes beautiful cake stands out of found plates and brass candlesticks...
ChicksPicksbyHillarydotcom
OK, here is what I started with, a glass plate (made in Italy! I heart Tuesday Morning clearance!) and a lovely glass candlestick. They cost me all of 7-8 bucks....
The hard part was getting the price tags off! I was so impatient...used my fingernail then had to break out the microfiber cloth....
I left the "made in Italy" tag on the plate--is that tacky or what? But I love Italian glass........... the fact its an age-old tradition and that
this plate came all the way from Italy to my hands----FOR 3.99!!!!

I decided to go with the Gorilla Glue "
Dries White 2X faster
" product, since my glass was clear and the Epoxy says it "dries tan"... I dampened the plate where it would be attached, as per the instructions. This part seemed odd to me, but what the heck, I applied the glue sparingly to the candlestick part, because it said it would expand:
I kept my fingers crossed as I put the plate on top...centered it..... it wobbled a little bit because of the ribbed texture of the glass I chose(note to self: smooth would have been much easier), so I just wiggled it until it felt like it was not going to slip off.
Then I realized I needed to carry it inside--how dumb, I shoulda just done it
inside!--
but it was OK.
I placed it on a stable surface and put a can of paint on top of it to weight it down. Left it there for 3-4 hours....
The glue dried strong and clear.
I added some clear silicone to the seam where the plate and candlestick met, just for some extra stability.............
TA-DA!! Here she is: